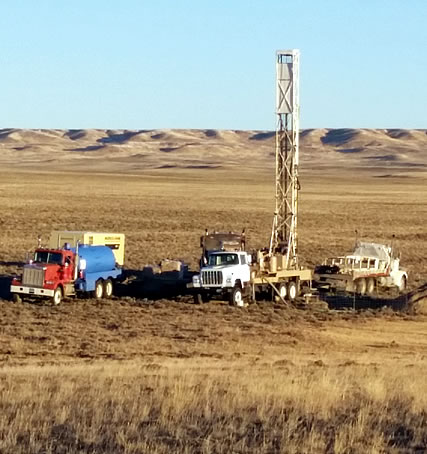 Drilling is the fastest and best way to create a well with the highest quality results. The drilled well taps into groundwater located in aquifers—it's then drawn up via a pump.
The most common type of drilling technique is rotary drilling, used in 90 percent of new wells. The biggest benefit of drilling is that water can be accessed from a much deeper level. You get water that is both better quality and quantity with this method.
Before starting a water well, we make every attempt to ascertain our customers' present and future needs in order to help select the best possible location and size for the well. Although water is never a guarantee, we have the knowledge and resources to research surrounding water wells and their depths to provide you with the most accurate guess for a potential water well site. After the well has been drilled and the casing and screen have been installed, several methods are used to develop the water producing capabilities of the well.
Our drillers make use of the latest drilling equipment and support equipment, as well modern drilling procedures on our projects. This, combined with our past experience and knowledge of the geological conditions in the area, we are able to offer you quality constructed projects at an affordable price. The drilling industry is ever growing and we aim to keep up with the always-changing regulations and standards.
Step One: Call Henderson Drilling at 307-472-1270 to schedule a free estimate
Step Two: Our Experts will come out to view the well site, listen to your goals and answer any questions about the process
Step Three: We will schedule the job and complete the job